Ancient Desert Agriculture Systems Revived


In the heart of the wilderness of the South Levant, there is a unique phenomenon of an abundance of ancient agriculture systems spread throughout this very arid region disclosing ancient systems that are as intriguing as they are mysterious. Take a journey with us into this aspect of the genius of the ancient world. This website presents the results of recent studies in Israel's Southern Negev Desert.
We hope that this website will become a valuable resource by providing a Smart GIS Database and presentation of information and images collected from many projects and surveys of these sites. This material has relevance not only for those researching and who study the ancient world, but to students and researchers worldwide, who are working to resolve a multiplicity of current problems in other arid regions.
As our work is ongoing, so is this website a work in progress. We will post our project results here as they become available, and we will be adding to the scope of the searchable Smart GIS Database with the intent to include the many thousands of sites which have already been surveyed over the last decades.
As of 2011 and forward ADASR has become part of CRASL - Center for Research & Archaeology of the Southern Levant.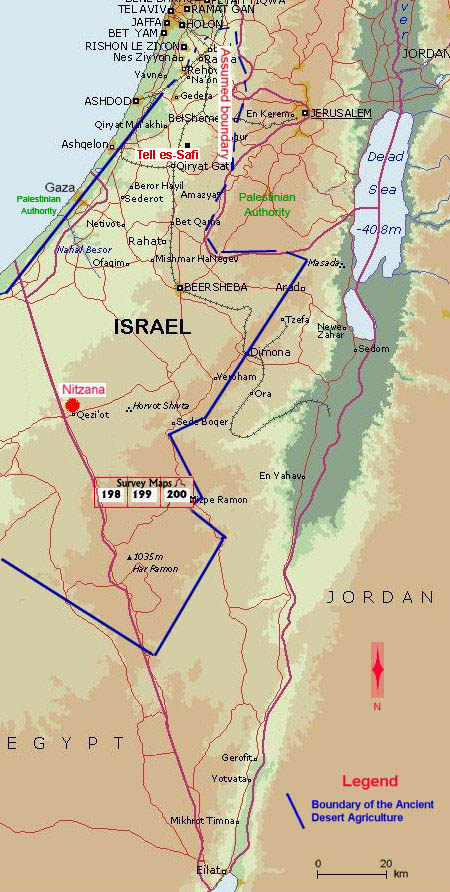 The boundaries of the ancient desert agriculture cover the Northern Negev, the Negev Highlands, some part of the Palestinian Authority south to Gaza and an unknown area in Egypt, between the border with Israel and Wadi el-Arish, ca. 50 km westward.
(click map for closeup)